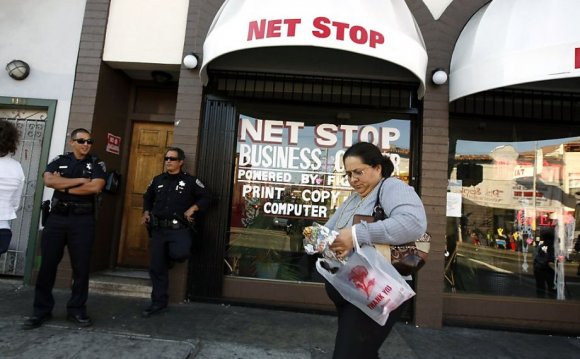 Local and state officials found evidence of what they suspect is a sweepstakes cafe gambling operation in Fairfield.
At approximately 9:30 a.m. Wednesday, detectives from the Fairfield Police Department assisted the California Department of Justice Bureau of Gaming Control in serving a search warrant at Talk N Win, an Internet sweepstakes cafe on North Texas Street in Fairfield. According to Fairfield police, the cafe is gambling operation.
This particular operation uses sweepstakes gambling software that creates "interactive gambling-themed games, " according to police. Talk N Win is accused of operating what constitutes an illegal gambling operation under state law, while representing the games as a lawful promotional sweepstakes for play.
In July, the Fairfield City Council approved a new city ordinance to ban "simulated gambling devices" in the city. The ordinance took the place of a temporary moratorium on simulated gambling put in place in Fairfield in 2013.
A "simulated gambling device" was defined as "any device that is available to play or operate a computer simulation of any game, where the play or operation of the device may deliver or entitle the person or persons playing or operating the device to a payoff or potential payoff..."
Talk N Win appeared to be responsible for an increase in criminal activity in the area of its location, according to a staff report submitted to the city council at the time.
The Fairfield Police Department identified 137 calls for service at Talk N Win on 2449 North Texas St., between Oct. 11, 2013, (when the business opened) and March 31, 2015, according to the staff report.
On Wednesday, agents from the California Department of Justice Bureau of Gaming Control seized evidence of the illegal gambling operation. The case will be referred to the Solano County District Attorney's Office.
Anyone with information regarding this crime is asked to call the Fairfield Police Department's Major Crimes Unit at 428-7600, the 24-hour Tip Line at 428-7345, or Crime Stoppers at 644-7867. Callers can remain anonymous.
Share this Post