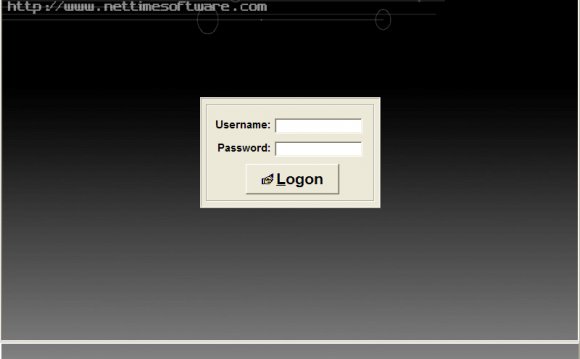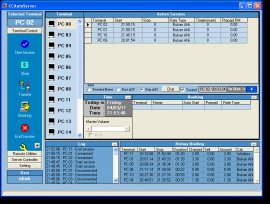 Description
CCAutoSoft Internet Cafe Software has many functions and utilities, which are essentials for a cyber cafe. Functions to lock, unlock, restart and shutdown remote computer terminal makes controlling a cyber cafe easier. CCAutoSoft Internet Cafe Software has the capability to monitor and control a LAN connected computer such as take a look at remote screen, take control of terminal volume control and terminating a running application. Managing a cyber cafe is never easier than before when CCAutoSoft Internet Cafe Software also can transfer any running session from a terminal to another terminal with no hassle at all. All customers' data is still there including any service charge, accessories or bought snacks.
CCAutoSoft Internet Cafe Software also can terminate all applications when it lock a terminal and reset desktop wallpaper and Internet Explorer start page, so the next customer will see a fresh desktop. A customer can register in a waiting list when all terminals are in use, and the list will be auto activate when the booked terminal is ready. CCAutoSoft Internet Cafe Software also has multiple charging options for various type of customer including prepaid or post-paid customer. Some cyber cafe or Internet cafe have a special charge rate for its' members so CCAutoSoft Internet Cafe Software has a membership database as a utilities to manage members. At the end of the day, cyber cafe owner can view his earning from the useful report utilities.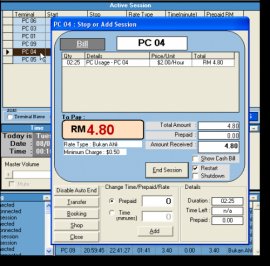 Looking for a better Internet Cafe Management Software than you are using now?
You current situation could be:
Your current netcafe software is not stable and creating so much problems? Computer crash, server crash?
Your current cybercafe software is not reliable?
Customers are not comfortable with your current timing software?
The software you are using now is too complicated?
Or, your internet cafe will be opened in a few days.
Well, you have come to a very right web site.. congratulation!!
CCAutoSoft is your ONLY solution!
From our experience, most of our customers had used or bought other internet cafe software (yes, CCAutoSoft was not their first choice at first), but finally after they used CCAutoSoft they stick with it.
Share this Post