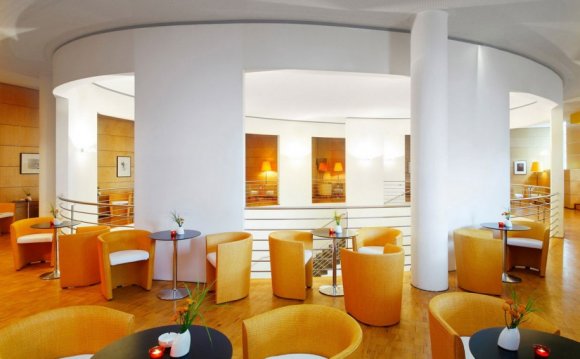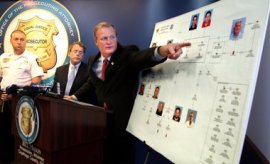 Lynn Ischay, The Plain DealerCuyahoga County Prosecutor Bill Mason points out the three major players in a criminal investigation of Internet cafes in Cuyahoga County.
CLEVELAND, Ohio — The Cuyahoga County Prosecutor's Office has charged the owners and distributors of a software system used in Internet sweepstakes cafes with racketeering, money laundering and illegal gambling and sent letters to all 50 caf operators in the county ordering them to shutter their businesses immediately.
Ten people and seven businesses are listed in the indictment, including a New Jersey-based company called VS2 Worldwide Communications, which supplied the game system to 18 of the cafes in Cuyahoga County.
Prosecutor Bill Mason said at a news conference Wednesday that sweepstakes cafes are illegal gambling businesses.
"You have to pay to play, players have no influence over the outcome of the game, and the player receives a prize or something of value when they complete it, " he said.
Mason said VS2 collected more than $48 million in the last four years, an amount that represents 25 percent of the money brought in by the 18 cafes.
Three owners of VS2, Phillip Cornick, 47, of Jackson, N.J.; Edward Kaba, 45, of Toms River, N.J.; and Richard Upchurch, 56, of Ramseur, N.C., were arrested Wednesday morning by members of the U.S. Marshal's Service. The men are accused in the indictment of using various bank accounts, including one in Ukraine, to launder money.
The other seven people who were indicted are Ohioans who distributed equipment to cafes on behalf of VS2.
Parma Heights police and the Ohio Investigative Unit of the Ohio Department of Public Safety were joined by the U.S. Secret Service in the investigation of VS2 after discovering that the agencies were conducting separate probes.
Mason said there are no plans to prosecute people who played at the cafes or the operators, many of whom received permits from host cities before they opened. And no charges have been filed against owners of seven other sweepstakes software systems used by cafes in the county.
Sweepstakes cafes are typically businesses where people buy Internet time or phone cards and receive points that allow them to use computer terminals to play games that look and sound much like slot and video poker machines found in gambling casinos. Players who win are paid in cash.
Cafe owners have argued that their customers use computer terminals to determine whether they have won a prize and that sweepstakes are similar to games offered by fast food franchises.
This confusion and a lack of legal guidance has allowed cafes to proliferate. The city of Cleveland, for example, has successfully prosecuted a number of owners and operators of sweepstakes cafes while other establishments remained open.
YOU MIGHT ALSO LIKE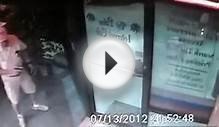 Florida Internet Cafe Robbery ends with Assailants Shot ...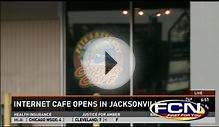 Internet Cafes back in the game in Jacksonville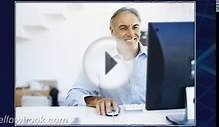 Winners Internet Café & Sweepstakes - Jacksonville, FL
Share this Post