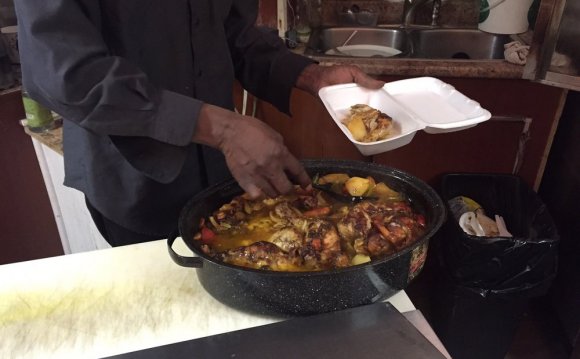 What a shocking and wonderful surprise to bump into this place.
While staying at the Best Western Plus Downtown (just across the street around the corner), I set off to look for a market. I found this spot not long after, it was a 2 minute walk from the hotel.
I am glad I went inside. It is an Internet cafe and Jamaican restaurant.
The first thing you see is a glass case with Jamaican patties in it. That's the first thing I ordered. Looking at the menu on the wall, I wanted to try 100% blue mountain coffee. My wife wanted to try the homemade soup.
I also grabbed a Ting (Jamaica's national grapefruit soda. Think Squirt, but better).
The patties were great, the Ting awesome as always. The coffee was disappointing. Blue mountain is consistently ranked the best in the world. I will have to try again somewhere else.
The owner is very talkative and very very friendly. He was so nice, and we ended up talking story for quite some time. He started bringing out dishes for me to try, starting with a plate of salad (simple tossed), then a plate of curry goat.
The food was so good. He makes everything homemade, from scratch. He bakes everything, so does not use oil.
My wife fell in love with the soup, so much that we ended up here three days in a row for that soup. I brought the rest of my family the next day, and they were also converted.
One thing to watch out for is the bill at the end. Although Harris (owner) is very nice and maybe even too giving with the extras, the charges are somewhat inconsistent. The first day seemed like he definitely undercharged a bit because he brought out so much food.
The next day with the family in tow, the bill ended up
being more than twice what it should have been. I did not want to make a scene in front of everyone, so let it slide for the time being.
Of course I went back again later that night for more food and at that point asked about the charges. He explained he gave extra food for more people. This was nice and all, but I never asked for any extras, so being charged for them was not very cool.
So just a heads up- be careful what your order versus don't order, as you actually may end up getting charged for it.
I really really like the owner a lot though. We talked for quite a long time. I enjoyed hearing his stories about Jamaica. For any reggae fans out there, he is a first cousin to the infamous Claudie Massop. Yes, he shares the same last name, their fathers were siblings. Very very interesting stuff.
When I am back in Vancouver again, I will definitely go see Harris again. His food is amazing. I'll be careful to order what I want and let him know I don't need extras. If you are in town, I highly recommend trying it. It may be the best soup you've ever had, as my wife proclaims.
Share this Post