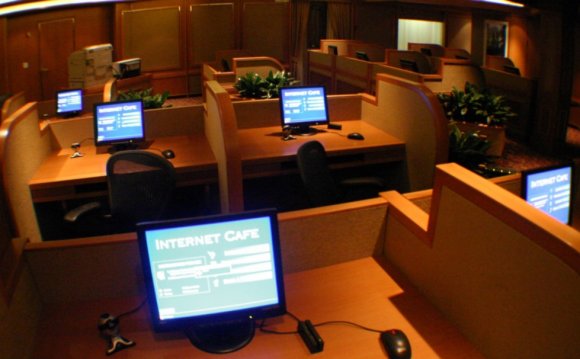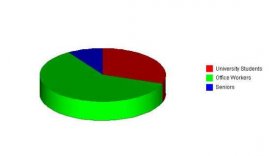 Market Summary
JavaNet is faced with the exciting opportunity of being the first-mover in the local cyber-cafe market. The consistent popularity of coffee, combined with the growing interest in the Internet, has been proven to be a winning concept in other markets and will produce the same results here.
All three target markets for the JavaNet service are growing at a relatively fast pace. We're faced with a large number of potential customers, and we're offering a needed service.
Target Market Growth:
University students continue to grow at a steady pace, at nearly 4%
Office workers in the downtown area and nearby professional buildings continue to add value, growing at 3%
Seniors are becoming an important part of downtown business, growing at almost 6%
Teens continue to play a major role in downtown foot-traffic, growing at 2%
Market Demographics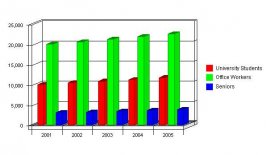 JavaNet's customers can be divided into two groups. The first group is familiar with the Internet and desires a progressive and inviting atmosphere where they can get out of their offices or homes to enjoy a great cup of coffee and Internet access. This group is made up of students from the University of Oregon and business people from nearby downtown offices and professional centers.
The second group is not as familiar with the Internet. This group is made up of seniors from the downtown retirement centers. There are three large retirement centers in the downtown area, and currently none of them offer Internet access to their residents. Seniors represent a growing segment of Internet users. They use the Internet to communicate with friends and family and they will be regular users of the JavaNet service.
Market Analysis
Market Analysis 2001 2002 2003 2004 2005 Potential Customers Growth CAGR University Students 4% 10, 000 10, 400 10, 816 11, 249 11, 699 4.00% Office Workers 3% 20, 000 20, 600 21, 218 21, 855 22, 511 3.00% Seniors 6% 3, 000 3, 180 3, 371 3, 573 3, 787 6.00% Total 3.59% 33, 000 34, 180 35, 405 36, 677 37, 997 3.59%
YOU MIGHT ALSO LIKE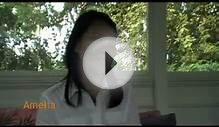 Amelia discusses her business plan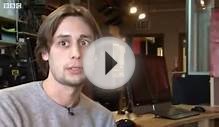 Decline and fall of the internet cafe.
Share this Post